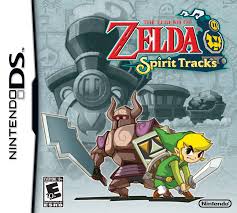 Spirit Tracks
is a game in the Zelda Series. It starts with
Link
getting his engineering certificate, presented by
Princess Zelda
. She then gives Link a note, telling him to come to her room and get help her out of the castle. He does so but it causes Chanceler Cole to get angry and steal the princess's body, leaving only her soul. He also steals the tracks from all the temples. You are then set with a mission to retrieve the tracks and Zelda's body again, with a few challenges along the way. It was released December 7th, 2009.
Ad blocker interference detected!
Wikia is a free-to-use site that makes money from advertising. We have a modified experience for viewers using ad blockers

Wikia is not accessible if you've made further modifications. Remove the custom ad blocker rule(s) and the page will load as expected.