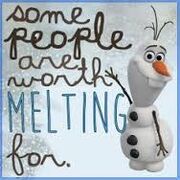 Olaf is the cheerful talking snowman in the movie Frozen. Elsa bulit him with her ice powers. She left him, though, and when Anna and Kristoff went to go get Elsa, they took Olaf with them. He then followed them on their journey to get Elsa and take them back to Arendelle to help control the snow and ice. He then helps Anna when Elsa accidently freezes her heart.
 
Ad blocker interference detected!
Wikia is a free-to-use site that makes money from advertising. We have a modified experience for viewers using ad blockers

Wikia is not accessible if you've made further modifications. Remove the custom ad blocker rule(s) and the page will load as expected.